Holiday Lighting Kansas City, MO 64112, 64113, 64114
Updated September 1 2012 – Every year Winter Illuminations, the holiday lighting company in Kansas City, is busy transforming fine homes in the Ward Parkway and Brookside area into envy of the neighborhood!  We do several holiday lighting install jobs in the State Line and Ward Pkwy areas near 55th St and would like to decorate your home if you don't already have an installer or are unhappy with your current installer.  In previous years we didn't always carry a good camera with us so forgive us for the picture quality but this year we got a new professional camera in hopes of taking better pictures.  At a house on 57th Ter we install Classic Clear C7 Lights on the roofline with multi-color mini lights in the front trees every year.  It looks really nice and gives the design some color.  The picture below should give you an idea of our designs.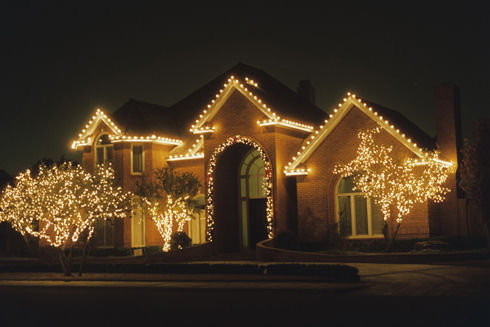 If you would like holiday lighting installed on your home in the State Line, Ward Parkway, Plaza, Brookside areas of Kansas City, MO in zip codes 64112, 64113, 64114, we invite you to call us for a free design consultation and estimate.  We have two experienced crews that have done hundreds of large jobs over the last couple of years and will take good care of you.  Our schedule fills up quickly so  request a free estimate in Kansas City.

(913) 232-7571