Custom Christmas Holiday Lighting in East and North Kansas City
Winter Illuminations, the #1 Christmas Lighting Company in Kansas City, has expanded and is now offering our unique style of doing holiday lighting to homeowners and commercial proprieties in Lees Summit, Grain Valley, Blue Springs, Independence,  North Kansas City, Parkville, Briarcliff, Kearney, Liberty, Oak Grove, Odessa, Lexington, Richmond, Belton, Raymore, Harrisonville areas of Missouri.  Call 913-232-7571 for a free estimate on professional Christmas light installation by an experienced contractor.  $350 minimum job.
In the past we had to turn down opportunities in East and North Kansas City but since 2012 we can now serve the entire metro area.  We have an experienced installer/contractor and small business owner Mr. Bob Hamilton of Grain Valley, MO on the team. When we first met, we knew he would be a perfect fit for the Winter Illuminations team in Kansas City.  We asked him recently, "Why would you be a good contractor to hire?" and we liked his response so well we wanted to post it for all to see.  "I have always followed through with my work exactly as explained to every homeowner or client.  I have been in business for myself for the last 4 years and as a contractor in the roofing, siding, guttering, and window fields, I know the importance of establishing a good reputation as a contractor that is reliable and does good work; afterall, I make a living on referrals alone.  I first started installing lights on my house a couple years ago and after doing some installs for friends last year, I was convinced that this was something I wanted to do more full time.  Homeowners can have confidence in a job well done because I plan to do most of the jobs myself.  If I do the job then I know it will be done right." – Bob Hamilton, October 6th, 2012.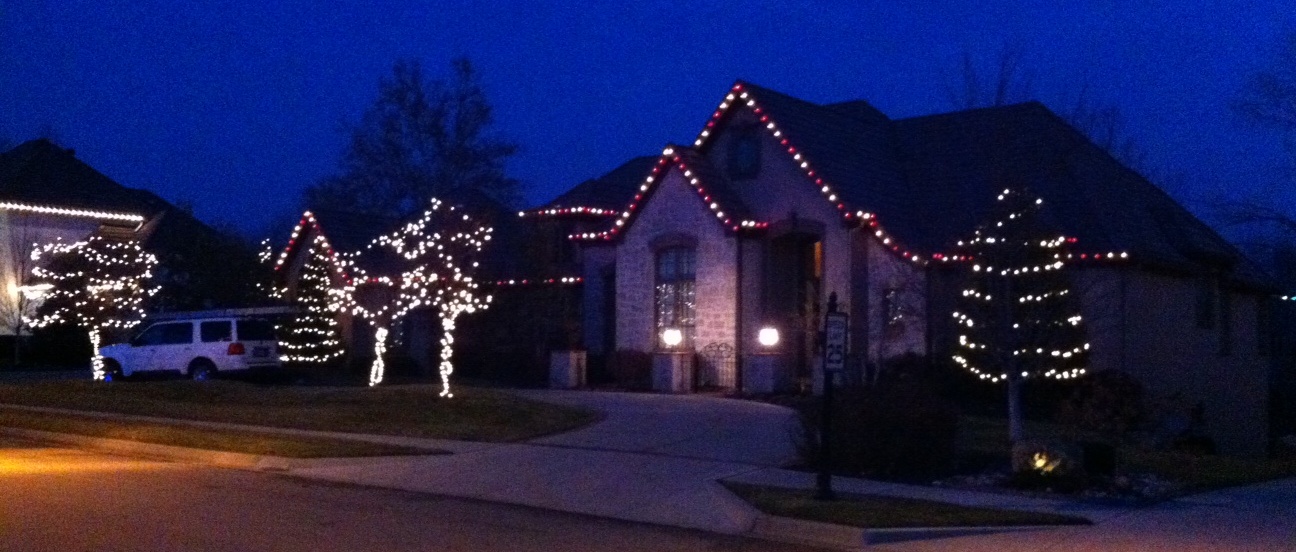 Bob went through Winter Illuminations University training to get certified in electrical safety and electrical consumption guidelines for both incandescent and LED lights (watts per bulb, max run length per line, and max amperage for both 15 and 20 Amp circuits) and receive instructions in best practices from our most experienced master installer.  With extensive training last year and year of experience under his belt, Bob is now rated as an expert installer (only the master installer is more experienced) able to take on large projects.
If you are looking for a reliable contractor with insurance that will do a good job, then you've come to the right place.  Full turnkey professional Christmas lighting packages include  installation, maintenance, and take down.
Request a Free Estimate and Roxxy or Bob will follow up with you promptly to schedule a time to come out to your home and talk to you about the options available.
How does it work?
The first year you buy the the commercial grade lights, priced by the foot; we will install and take them down for you. We hang lights cut to fit your home perfectly. No extra cords or bulbs.  If you like us and we do a good job, we'll come back next year and do the job a discounted price.  You own the lights, you store the lights.  Since you will have commercial grade lights, we include maintenance for no extra charge and a 3-year guarantee.  We will make sure your house or building is looking great all season.  That is also why it is so important to work with a contractor that lives within 30 minutes drive and why we have expanded our team.  At the end of the season, it is so easy; you will come home and your lights will be in plastic tubs on your front porch.
If you already have lights from another company, we will inspect them and if they are not a huge rats or old and brittle looking, we MAY install them for you but make no guarantees.  There is no free maintenance on lights we do not supply.  If bulbs go out there will be a service charge if you want us to come back and fix it for you.  For this reason, it is typically better to go with new lights.  It is not that much more expensive.  Peace of mind is important (for both of us).
We offer everything from the popular clear lights or all variations of unique style with colored lights.  LED and incandescent lights are both available.  The LEDs are more expensive.
We decorate trees and bushes under 20 ft in height and charge by the number of mini-light strands.
We specialize in fine homes and cater to the needs of the estates in The National, Briarcliff, Tiffany Greens, Stately Farms, and the subdivisions of Sni-A-Bar Farms, Crystal Aire in Grain Valley, MO 64029. Winport, Indian Hills, Woodbine, Waterfield, Country Club Gardens in Blue Springs 64014, 64015. The National in Parkville, MO 64152. Briarcliff West, Claymont Estates and Claymont North in North Kansas City, MO 64116. Heritage Hills, Holmes Creek Hills North, Fox Run, Private Gardens in Kearney, MO 64060. Bent Oaks, Holly Lake Estates, Meadow Lake Estates, Camelot in Liberty, MO 64068. Wood Crest Farm Estates, The Falls, Ramsgate, Monticello, Woodland Place, Remington Estates, Nottingham Place in Independence, MO 64056. Deer Run, The Cliffs, Riss Lake, Lakewood, and Longview Farms.